About The Intel Software Innovators
The Intel Software Innovators program provides speaking and demonstration opportunities for innovative, independent developers. Through their expertise and innovation with cutting-edge technology, these developers demonstrate a spirit of ingenuity, experimentation, and forward thinking that inspires the greater developer community.
Innovators provide technical leadership, inspiration, and influence worldwide to the greater developer community using Intel® architecture. This program is growing with support for developers in North America, Brazil, Europe, India, Asia Pacific, and China.
Intel/Microsoft Hackathon
IoT Solutions World Congress Barcelona
The Intel / Microsoft IoT Solutions World Congress Hackathon in Barcelona Spain was my first hackathon, and ultimately lead to my joining the Intel Software Innovators Program.
At the hackathon my team built a computer vision project with the use case of monitoring dependant family members using facial recognition. The project included a deep learning neural network on an Intel Joule and a smart home environment using Intel technologies such as the Intel NUC, our team won the Intel Experts Award.
View Event
Where it began
Joining The Intel Software Innovators Program
I had always been interested in joining the Intel® Software Innovators since I first began experimenting with the Internet of Things and the Intel® Galileo that I was awarded by Microsoft for my project idea for the Windows Development .
In January 2017, I was approached by Francesco Baldassarri, EMEA Manager of the Intel® Innovators Program and engaged with Intel® as an Intel® Software Innovator.
Within the program I work on projects that combine Artificial Intelligence and the Internet of Things to create intelligent smart environments.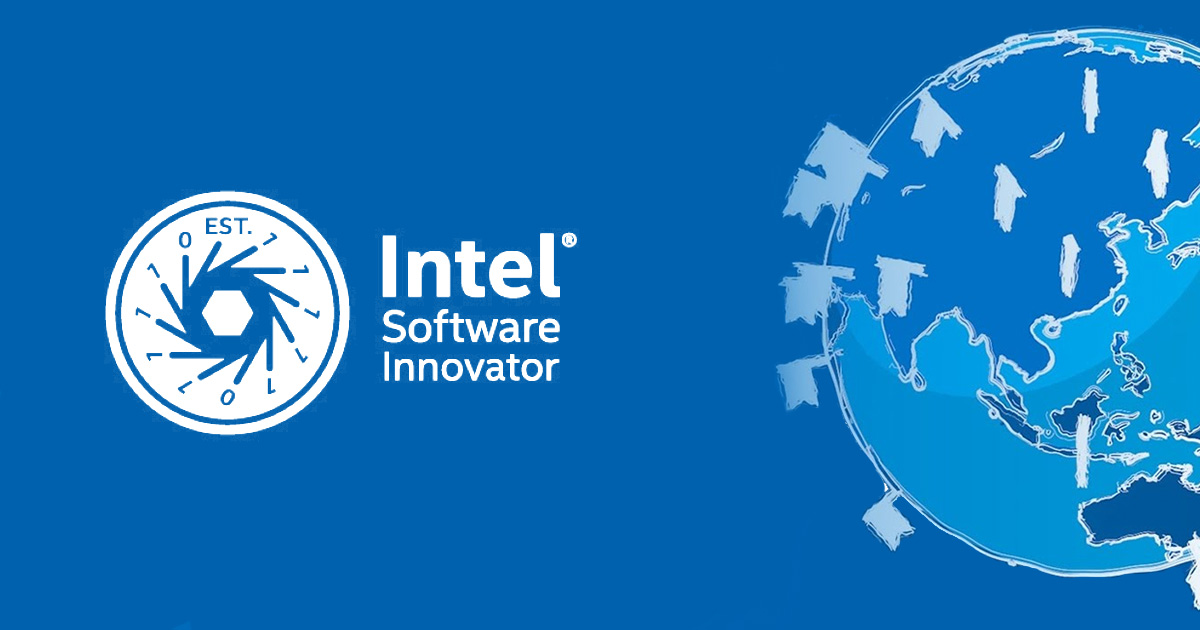 Intel IoT Solutions Hackathon
Furth, Germany
In March 2017 I supported my first Intel® event as an Intel Software Innovator where I was part of the support team that assisted developers from around the globe in the Intel® IoT Solutions Hackathon in Furth Germany.
Over 50 people attended the event and some amazing projects were created using Intel® hardware and software.
It was an amazing experience to represent Intel and assist the teams with their projects. Intel staff were very welcoming and made my first event as an Intel Software Innovator one that I will never forget.
View Event
Collision Conference
New Orleans
In May 2017 Intel sponsored my trip to Collision Conference in New Orleans where I demonstrated my AI E-Commerce Store project.
My company was an Alpha Startup at the event and we demonstratd the AI E-Commerce Store for the duration of the event alongside other Alpha startups.
View Event
In May 2017 I demonstrated my Artificially Intelligent CCTV Network, TassAI, at the Intel Booth at Codemotion as an Intel Software Innovator.
Codemotion is the biggest tech conference in Italy and one of the most important in Europe, with a network of more than 30k developers.
The event was the first real world demonstration of TassAI and I was able to identify areas that required improvement. During the event I demonstrated the project to many people and it was really amazing to see the interest in the project.
View Event
WebSummit
Lisbon, Portugal
Following the success of debuing the A.I. E-commerce Store at Collision Conference in New Orleans in 2017, I was proud to take the Artificial Intelligence Assistants A.I E-Commerce Store and TassAI project to WebSummit 2017 in Lisbon.
At this event we debuted the latest version of TASS AI which used an Intel Realsense camera and an Intel NUC.
View Event
Intel IoT DevFest
Artificial Intelligence and Machine Learning in the Internet of Things
In 2017 I was a participant in the Intel IoT Dev Fest. My talk looked at the use of Artificial Intelligence and Machine Learning in the Internet of Things. The goal was to show how intelligent cloud services are currently being used in the Internet of Things to analyse data and maximise the performance and efficiency of IoT networks, and also how A.I and Machine Learning can be used on devices and on the edge to create intelligent devices and networks that do not require cloud services.
View Event
Evolution of IoT through A.I. & Biohacking
GOA National Institute of Technology
In March 2017, I spoke as an Intel Software Innovator at the Internet of Things (IoT) for Home Automation Workshop held at the National Institute of Technology in GOA.
My talk was focused on the evolution of the Internet of Things through Artificial Intelligence & Biohacking.
View Event
Train AI to Detect Breast Cancer
Intel AI News
Intel AI news published a video about my Invasive Ductal Carcinoma (IDC) Classifier. The video introduces the project and explains how Intel Deep Learning technologies can be utilized to train AI to detect breast cancer in unlabeled histology images.
Breast Cancer AI
Intel AI DevJam/ICML
In 2018 Intel invited me to demonstrate the Invasive Ductal Carcinoma (IDC) Classifier at Intel AI DevJam. I also presented the project at the Intel Booth during the 35th International Conference on Machine Learning (ICML 2018) in Sweden.
View Event
Embedded World
Nuremberg Germany
In 2019 myself and Estella were invited to demonstrate the Acute Lymphoblastic Leukaemia Detection System 2019 with Intel at Embedded World in Nuremberg, Germany. Our research project had not yet become a non-profit at this point, and Estella was one of the first 5 that joined me on the project. We had an amazing time at the Intel booth and received so much support for our work.
View Event
Intel DevMesh
AI Spotlight Award
In 2019 the Acute Lymphoblastic Leukaemia Detection System 2019, a project I developed as part of the Peter Moss Acute Myeloid & Lymphoblastic Leukaemia AI Research project, was awarded the Intel® DevMesh AI Spotlight Award.
The project was one of 4 projects, and 1st from Europe, awarded the then new designation granted by Intel recognizing inspiring and breakthrough Artificial Intelligence projects in development from the Intel software community.
View Project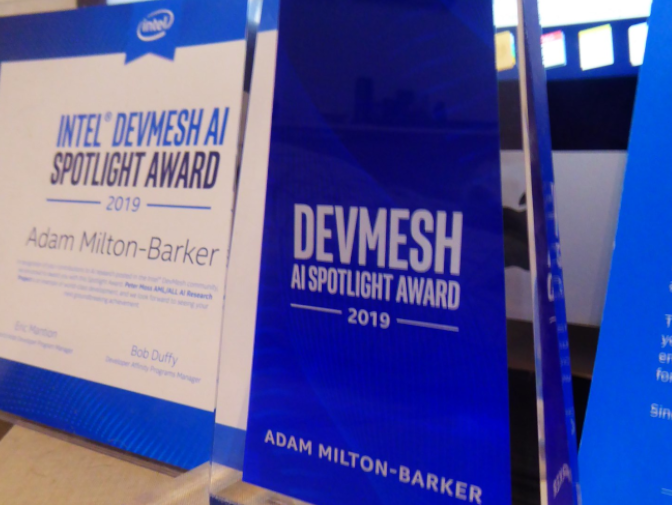 OneAPI
Official OneAPI Innovator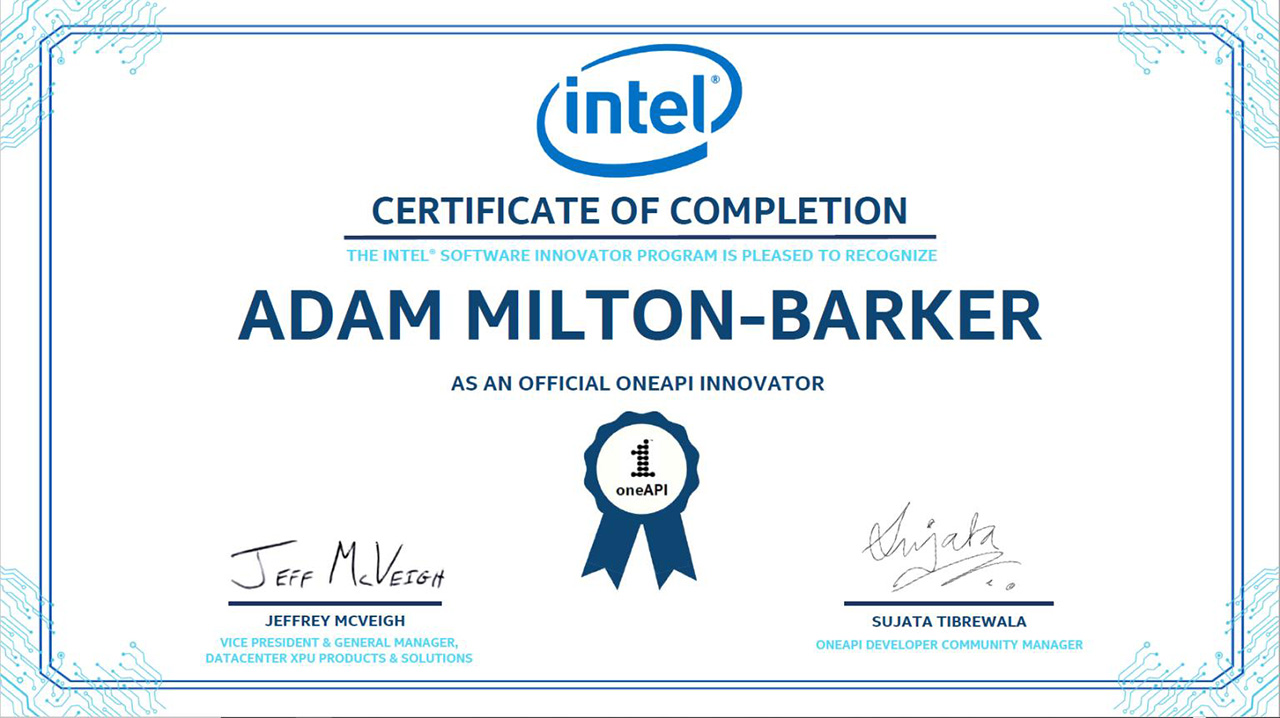 In September 2020, I completed a series of requirements and became an official OneAPI Innovator.
Intel Innovation
Tech For Good
In October 2021 Intel sent a film crew to my home in Sabadell to film a video about my non-profit and the technologies we were working on at the time for a video that would be debuted at the 2021 IntelOn.
View Project